Service Pricing
Standard Service Calls

Initial Charge

(Includes 1st Hour of Labor & Travel Time)

Additional Labor

(Billed In 15 Minute Increments)

Monday – Thursday 7:30AM – 4:00PM

Friday 7:30AM – 3:00PM

$110.00

$27.50

Monday – Friday After Hours Emergency Service

$205.00

$51.25

Saturday After Hours Emergency Service Only


$205.00

$51.25

Sunday After Hours Emergency Service Only


$225.00

$56.25

Holidays After Hours Emergency Service Only


$300.00

$75.00
Please Note: Service rates include labor only. Sales tax, parts, and any other charges will be included on your final bill. Payment is due on site for any After Hours, Weekend, or Holiday service. Labor for any service outside of our regular office hours will be billed at the highest applicable rate.

We offer After Hours Emergency Service daily from 8:00AM to 8:00PM. If you are in need of an emergency repair, please leave a message for our on-call technician at (304)282-3958 and we will do our best to call you back within 30 minutes. Please note that we cannot guarantee a repair in one trip as your system may need replacement parts or more extensive repairs than can be done after hours. After Hours Emergency Service may have limited availability in extreme weather or on high volume days.
Maintenance Agreements
Keep your HVAC system running at its best with regular inspections and maintenance. Our HVAC Service Technicians have the training and experience to service most residential HVAC systems regardless of age or brand. Schedule your Maintenance Agreement back-to-back with a neighbor and you can both save up to $100 a year with our new Good Neighbor Discounts!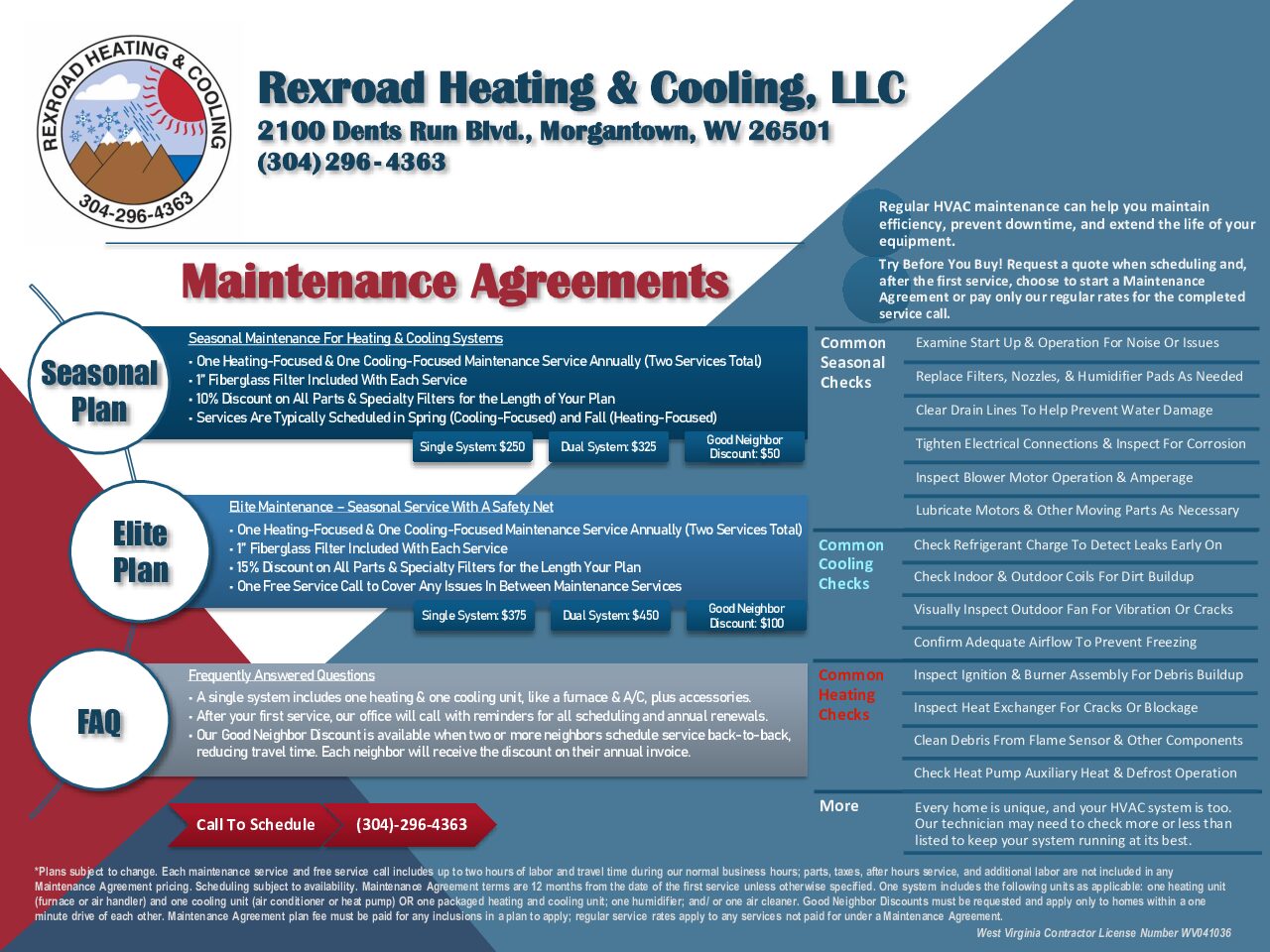 Free In-Home Estimates On HVAC Unit Replacements

Is it time to replace your HVAC unit? Contact our office to schedule a free in-home estimate to replace your furnace, air conditioner, heat pump, or other HVAC or air quality unit. We are committed to offering fair prices and honest options that work for you.